Why use SAP Product Lifecycle Management (PLM)?
Integrated, digitized business processes require a high performing and integrated product lifecycle management (PLM). This deals with the collection and processing of all information that is incurred during the lifecycle of a product.
SAP PLM is not a single component of the SAP system but is rather an umbrella term for numerous components of SAP used to form PLM.
We have successfully realized numerous projects in the following areas and in addition, offer you our own products, such as the STELACON material variant generator, which complements the SAP Standard.
Product Data Management
SAP Engineering Control Center
SAP established their strategic integration platform for authoring tools (e.g. 3D-CAD) with the modernly designed interface of the Engineering Control Center. Depending on the authoring tool, we cooperate with various SAP partners.
Engineering Record
Engineering Records help to group objects in SAP in order to guide them together through a controlled process. Through this, they support the entire implementation and change the process.
PLM WebUI
The web-based user interface of SAP product lifecycle management (PLM Web UI) provides interfaces related to master data management as well as several other PLM applications such as Product Centric View.
cFolders
Collaboration folders (cFolders) is a web-based cooperation platform, through which customers and vendors can exchange product information like documents or product structures.
SAP Document Management System (DMS)
SAP DMS is a partial component of SAP PLM in which files (documents) are saved, managed and assigned to entities like material master, purchase order or sales order positions within SAP.
SAP DMS is an integral part of SAP ERP and therefore allows quick access. With SAP DMS you are also able to send information like design drawings, data sheets or change notifications automatically e.g. while releasing a purchase order.
Our employees have extensive experience in the following areas:
SAP DMS
Business Document Service
ArchiveLink
Knowledge Provider
Folders Management
Document and Data Archiving
Product Data Visualization
Product data visualization is an inherent part of modern business software solutions. SAP 3D Visual Enterprise Viewer provides fundamental visualization functions as an integral part of SAP ERP.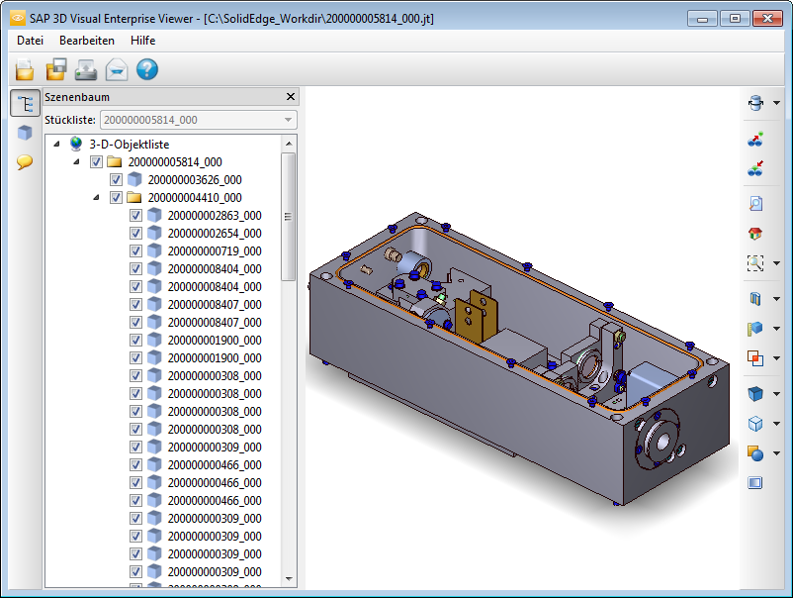 SAP Variant Management
Product variants are modeled with a maximal bill of materials / routings with support from object dependencies, which are composed from classes and characteristics. In addition to understanding SAP functionalities, it is essential to understand product structures and their strategic simplification, modularization and structuring in order to successfully utilize variant management. It is necessary to find the optimum amount of variants while considering a high cost-value.
Practical Experience
Our consultants have many years of practical experience with the module LO-VC (SAP variant configuration). They were and continue to be responsible for the design and maintenance of variant configuration at several different mechanical engineering companies.
STELACON Material Variants Generator
With the addition of any monovalent option, the amount of existing material variants is doubled. The laws of combinatorics also apply to LO-VC. This means if 100 variants exist, an additional 100 have to be added if the newly added option is to be relevant for all already existing variants.
The STELACON material variant generator is able to generate material variants automatically. Manual effort within the responsible department can be hereby drastically reduced.
The STELACON material variant generator generates:
Bill of materials
Routings
Plan calculations at the push of a button with regards to the existing configuration models.
Integration of Third Party Systems
Rule Designer
In cooperation with PBU CAD Systems GmbH, we developed a web service interface to the PDM System Rule Designer. At present the following entities can be exchanged:
Material master including long texts
Bill of Materials including base size information
Document info record and files
Classifying data
It is possible to expand and add additional entities and fields at all times.
Oracle Agile
Within the scope of a merger, in which the parent company already uses Oracle Agile worldwide as their central PLM system, we developed several web interfaces to SAP ERP. Through these web interfaces, change masters, materials and BoMs, as well as data and files from document info records can be transferred via a fully automated release procedure to the third party system.